Shop
/ Preloved Short Sleeve Hawaiian Shirts | Set of 3
Preloved Short Sleeve Hawaiian Shirts | Set of 3
Sale price

$25

Regular price
Aloha thrifters and welcome to paradise! Just imagine it... the most picturesque beach you could ever dream of. The fish are happy. There is no water pollution or trash on the beaches. Sea levels are steady. You're sipping a piña colada made from locally and ethically grown fruits and you think to yourself 'could this be more perfect?' 
Yes, yes it could be. You could also be wearing a secondhand recycled Hawaiian Shirt! The only part of this dream that is attainable (for now!!!) is the last part of this fantasea. The almighty thrifted Hawaiian Shirt.
Shop secondhand. Look fly as hell. It's that easy. 
0
YOU'RE SAVING
2139 gallons of water
100kg of carbon
$105 from fast fashion
🚛 Free shipping on orders over
$60
Customer Reviews
Write a Review
Ask a Question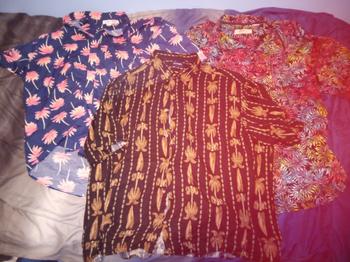 02/09/2021
I recommend this product
Love my shirts!
I wear Hawaiian shirts a lot, so I ordered 3, and they sent me some really nice ones. It was shipped quick and was very affordable, can't wait to order from them again
Adam W.

United States
02/02/2021
I recommend this product
Nice shirts
Very comfortable, classic hawaiian shirt styles. True to size
Cassandra W.

United States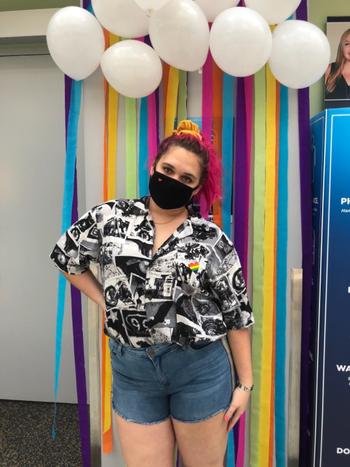 01/22/2021
I recommend this product
SO CUTE
I love these shirts, they are comfortable, true-to-size, and totally cool! They didn't need any suggestions and they gave me three shirts I wear literally all the time! I just ordered three bundles and I am so in love with this company!
abbey e.

United States
Hi Abbey, Lizzy here with Goodfair Customer Service. Thanks for thrifting with us and joining the Goodfair generation! We really appreciate the positive feedback you left and want to see if you'd be willing to help us reach even more people to share the mission of #nonewthings Tag us on your social media accounts and share your unboxing with a friend! We would love to share your personal stories, artwork, and DIY ideas with the larger Goodfair community. We appreciate you and want to offer a 10% discount for you to use on your next order. Just use the code goodfairfam10 :)
07/19/2021
I recommend this product
Hawaiian Shirts!
The Hawaiian shirt bundle was nice. I was hoping for brighter/more fun shirts but I feel like that's kind of the fun in getting mystery bags is not super knowing what you'll get.
Macy P.

United States
07/19/2021
I recommend this product
AMAZING
I love these shirts so much and they are all in such good condition with not a single stain and two of them were entirely silk
environmental counter
Every single Goodfair purchase has a positive impact. Don't believe us? Take a look at all the ways our "No New Things" philosophy is changing the world.
DOLLARS SAVED
Carbon Saved
Water Saved
Garments Saved
You might also like these