Shop
/ Preloved Denim Shirts | Set of 2
Preloved Denim Shirts | Set of 2
Sale price

$25

Regular price
What do Cindy Crawford in the 90s and Jay Leno in his garage have in common? it's the trusty ole Denim Shirt. And what could make a denim shirt even better than that? If it's an already broken in denim shirt.
Wear it oversized or slim fit, either way you're guaranteed to make a statement. The Canadian Tuxedo is the new Juicy Tracksuit and all the real ones know it. 
Mama earth will thank you deeply for keeping more of these out of her landfills. We hand select the best ones possible and we are totally sure you will be stoked out of your mind with your surprise denim shirt. 
0
YOU'RE SAVING
1426 gallons of water
67kg of carbon
$70 from fast fashion
🚛 Free shipping on orders over
$60
Customer Reviews
Write a Review
Ask a Question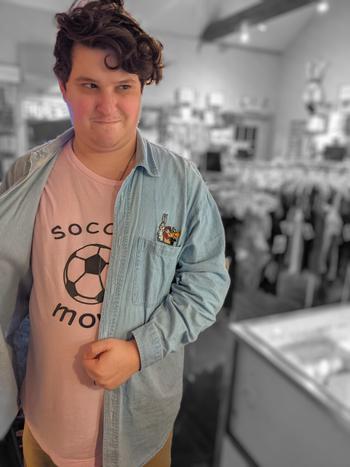 01/10/2021
I recommend this product
Amazing Quality and Fast Shipping
I love both of the shirts I got. I wear them all the time and I'm tempted to buy more.
Archer B.

United States
Hi Archer, Lizzy here with Goodfair Customer Service. Thanks for thrifting with us and joining the Goodfair generation! We really appreciate the positive feedback you left and want to see if you'd be willing to help us reach even more people to share the mission of #nonewthings Tag us on your social media accounts and share your unboxing with a friend! We would love to share your personal stories, artwork, and DIY ideas with the larger Goodfair community. We appreciate you and want to offer a 10% discount for you to use on your next order. Just use the code goodfairfam10 :)
03/17/2021
I recommend this product
2 new denim shirts!
The quality of the shirts I got were perfect! The size was spot on, being comfy and a little oversized. I wish I got one with some fun embroidery or patch on it, but that can be for next time's order!
Brianne R.

United States
02/26/2021
I recommend this product
LOVE
I received one plain Denim button up and one with stitching right above the pocket. Even though I was hesitant about wearing the one that had stitching that said "Arizona Health Sciences" with someone's initials (because obviously the shirt wasn't mine to begin with), it's definitely my favourite one now! Now whenever I order from Goodfair, I look forward to being surprised with what i get! definitely ordering again.
Sarah G.

United States
02/24/2021
I recommend this product
Love The Denim
I love these denim shirts! They are really comfortable, and I'm helping saving the environment, which is always a bonus.
Jon H.

United States
02/05/2021
I recommend this product
90's Fantasy
normally "denim" shirts feel paper thin. these are genuine denim but still super comfortable. every one i got was in great condition and fit just how i wanted!
Amber L.

United States
environmental counter
Every single Goodfair purchase has a positive impact. Don't believe us? Take a look at all the ways our "No New Things" philosophy is changing the world.
DOLLARS SAVED
Carbon Saved
Water Saved
Garments Saved
You might also like these